Adobe Captivate, formerly RoboDemo, is an authoring tool from Adobe for online learning content. The authoring application itself only supports Windows-based computers, but the output can be viewed through a web browser.
Product history
Edit
The product began at Nexus Concepts in 2001 as a simple Flash-based screen recording utility known as Flash Cam.[1] It evolved into an e-learning authoring tool after San Diego-based eHelp Corporation acquired Flash Cam and released it as RoboDemo in May 2002.[2] Macromedia acquired eHelp to gain RoboDemo and renamed it Macromedia Captivate, which was released in October 2004.[3] Adobe Systems then acquired Macromedia in December 2005,[4] and renamed the next version to Adobe Captivate 2, which was released in September 2006.[5]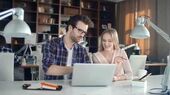 Adobe Captivate 9 added support for publishing to Adobe's own server-based learning management system (LMS) called Adobe Captivate Prime.[6]
From Adobe Captivate 2017 onward, dates were used for marketing instead of version numbers; it was also included as part of Adobe Technical Communication Suite 2017. In November 2018, Adobe Contribute's web site was redirected to Captivate 2019,[7] after Contribute (another legacy product from Macromedia) had been declared "end of life".[8]
References
Edit
↑ Flash Cam Version History, Nexus Concepts. Archived 2002-01-12.
↑ Meet Macromedia Captivate, the latest version of RoboDemo, Macromedia. 2004-10-09. Archived 2005-12-07.
↑ Adobe Completes Acquisition of Macromedia, Adobe Systems. 2005-12-05. Archived 2005-12-07.
↑ Adobe Captivate 2, Adobe Systems. Archived 2006-09-04.
↑ Adobe Integrates eLearning Brothers Templates into Captivate 9 via BusinessWire, VentureBeat. 2015-08-19.
↑ Got an HTTP 301 response at crawl time | Redirecting to..., Adobe. Archived 2018-10-05.
↑ Adobe Contribute – End of Life, Adobe. Archived 2017-03-09.
External links
Edit
Community content is available under
CC-BY-SA
unless otherwise noted.