Adobe Creative Suite (CS) is a collection of graphic design, video editing, and web development applications made by Adobe Systems. The collection consists of Adobe's applications (e.g., Photoshop, Acrobat, InDesign), that are based on various technologies (e.g., PostScript, PDF, Flash). The last version, Creative Suite 6 (CS6), was launched at a release event on April 23, 2012, and released on May 7, 2012.[1] CS6 was the last of the Adobe design tools to be physically shipped as boxed software as future releases and updates would be delivered via download only. As of January 9, 2017, Creative Suite is no longer available from Adobe and has been replaced by Adobe Creative Cloud.
Applications
Edit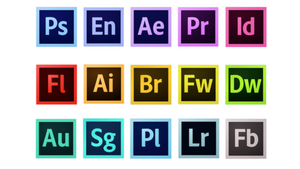 Brief descriptions of the applications in the various Adobe Creative Suite editions:
Adobe Acrobat is a software family dedicated to Adobe's Portable Document Format (PDF). Adobe Acrobat Standard, Adobe Acrobat Professional, and Adobe Acrobat Professional Extended all allow for the creation of PDF files. Adobe Reader is a free application that allows the reading of PDF files.
Adobe After Effects is a digital motion graphics and compositing software published by Adobe Systems. It can be used in film and video post-production.
Adobe Bridge is an organizational program. Its primary purpose is to link the parts of the Creative Suite together using a format similar to the file browser found in previous versions of Adobe Photoshop.
Adobe Contribute can edit the content of a website. It allows a wide variety of people within an organization to update web pages by reducing the amount of web design skills necessary for the process.
Adobe CS Live is a set of subscription-based online services that integrates with Adobe Creative Suite software. CS Live includes the following services:
Adobe Device Central's primary purpose is to integrate parts of the Creative Suite together to offer both professional and individual creative professionals, web designers and mobile developers an easier way to preview and test Flash Lite, bitmap, web and video content for mobile devices.
Adobe Dreamweaver is a combination code / GUI web development application.
Adobe Dynamic Link integrates After Effects with Premiere Pro and with Encore.
Adobe Encore is a software tool for authoring DVD and Blu-ray - produced by Adobe Systems and targeted at semi-professional video producers. Files are automatically transcoded to MPEG-2 or H.264/MPEG-4 AVC video and Dolby Digital audio. DVD and Blu-ray menus can be created and edited in Adobe Photoshop using special layering techniques.
Adobe Fireworks is a bitmap and vector graphics editor, aimed at web designers (with features such as: slices, the ability to add hotspots etc.).
Adobe Flash is a software family dedicated to various Adobe multimedia technologies:
Adobe Illustrator is a vector graphics editor.
Adobe InDesign is a desktop publishing application.
Adobe OnLocation is a direct-to-disk recording and monitoring software.
Adobe Photoshop is a raster-graphics editor (with significant vector graphics functionality).
Adobe Premiere Pro is a real-time, timeline-based video editing software application.
Adobe Audition is a digital audio editor that provides the modern interface and seamless workflow of Adobe Soundbooth with the precision and power of Audition. Audition is replacing Soundbooth as of CS5.5.
Editions
Edit
Adobe sells Creative Suite applications in five different combinations called "editions", these include:
Adobe Creative Suite 5.5 Design Premium and Design Standard are two editions of the Adobe Creative Suite 5 family of products intended for professional print, web, interactive and mobile designers. The key difference between Design Premium and Design Standard is the addition of Adobe Photoshop CS5 Extended, Adobe Flash Catalyst CS5, Adobe Flash Professional CS5, Adobe Dreamweaver CS5, and Adobe Fireworks CS5 to the Premium version.
Adobe Creative Suite 5.5 Web Premium is an edition of the Adobe Creative Suite 5 family of products intended for professional web designers and developers.
Adobe Creative Suite 5.5 Production Premium is an edition of the Adobe Creative Suite 5 family of products intended for professional rich media and video post-production experts who create projects for film, video, broadcast, web, DVD, Blu-ray Disc, and mobile devices.
Adobe Creative Suite 5.5 Master Collection contains applications from all of the above editions
Below is a matrix of the applications that are bundled in each of the software suites for CS5:
Windows versions of Adobe Premiere CS5.5 and Adobe After Effects CS5.5 are 64-bit only and require at least Windows Vista 64-bit or a later 64-bit Windows version. Windows XP Professional x64 Edition is not supported.
Adobe Version Cue, an application that enabled users to track and manipulate file metadata and automate the process of collaboratively reviewing documents among groups of people, and the Adobe Creative Suite Web Standard edition, previously available in CS4, have been dropped from the CS5 line-up.
Adobe Encore and Adobe OnLocation (formerly Serious Magic DV Rack HD2) are included as part of Adobe Premiere Pro and are not released as standalone products.
Adobe InCopy, an application closely integrated with Adobe InDesign, is also part of the Creative Suite family, but is not included in any CS5 edition. It can be ordered from Adobe, third party plug-in developers, or systems integrators.
Adobe Audition, a professional audio-editing program, will replace Adobe Soundbooth in CS5.5.
Creative Suite 1 & 2
Edit
The first version of Adobe Creative Suite was released in September 2003[2] and Adobe Creative Suite 2 in April 2005.[3] The first two versions (CS and CS2) were available in two editions.
The Standard Edition included:
Design guide and training resources
The Premium Edition also included:
Creative Suite Production Studio
Edit
Adobe Creative Suite Production Studio (previously Adobe Video Collection) was a suite of programs for acquiring, editing, and distributing digital video and audio that was released during the same timeframe as Adobe Creative Suite 1. The suite was available in standard and premium editions.
The Adobe Production Studio Premium edition consisted of:
The Standard edition consisted of:
Since CS3, Adobe Production Studio became part of the Creative Suite family. The equivalent version for Production Studio Premium is the Adobe Creative Suite Production Premium.
Macromedia Studio
Edit
Macromedia Studio was a suite of programs designed for web content creation designed and distributed by Macromedia. After Adobe's 2005 acquisition of Macromedia, Macromedia Studio 8 was replaced, modified, and integrated into two editions of the Adobe Creative Suite family of software from version 2.3 onwards. The closest relatives of Macromedia Studio 8 are now called Adobe Creative Suite Web Premium.
Core applications from Macromedia Studio have been merged with Adobe Creative Suite since CS3, including Flash, Dreamweaver, and Fireworks. Some Macromedia applications were absorbed into existing Adobe products, e.g. FreeHand has been replaced with Adobe Illustrator. Director and ColdFusion are not part of Adobe Creative Suite and will only be available as standalone products. The final version of Macromedia Studio released include:
Macromedia Studio MX Released 29 May 2002, internally it was version 6 and the first incarnation of the studio to use the "MX" suffix, which for marketing purposes was a shorthand abbreviation that meant "Maximize". Studio MX included Dreamweaver, Flash, FreeHand, Fireworks and a developer edition of ColdFusion.
Macromedia Studio MX Plus Released 10 February 2003, sometimes referred to as MX 1.1. MX Plus was a special edition release of MX that included Freehand MX (replacing Freehand 10), Contribute and DevNet Resource Kit Special Edition in addition to the existing MX suite of products.
Macromedia Studio MX 2004 Released 10 September 2003, despite its name, it is internally version 7. Studio MX 2004 included FreeHand along with updated versions of Dreamweaver, Flash and Fireworks. An alternate version of Studio MX 2004 included Flash Professional and a new interface for Dreamweaver.
Macromedia Studio 8 Released 13 September 2005, Studio 8 was the last version of Macromedia Studio. It comprised Dreamweaver 8, Flash 8, Flash 8 Video Converter, Fireworks 8, Contribute 3 and FlashPaper.
Creative Suite 3
Edit
Adobe Creative Suite 3 (CS3) was announced on March 27, 2007; it introduced universal binaries for all major programs for the Apple Macintosh,[4] as well as including all of the core applications from Macromedia Studio and Production Studio.
Some Creative Suite programs also began using the Presto layout engine used in the Opera web browser.[5]
Adobe began selling CS3 applications in six different combinations called "editions." Design Standard & Premium and Web Standard & Premium began shipping on April 16, 2007, and Production Premium and Master Collection editions began shipping on July 2, 2007. The latest released CS3 version was version 3.3, released on June 2, 2008. In this version Fireworks CS3 was included in Design Premium and all editions that had included Acrobat 8 Pro had it replaced with Acrobat 9 Pro.[6] Below is a matrix of the applications included in each edition of CS3 version 3.3:
All of the above editions included shared applications and services including Adobe Bridge, Adobe Version Cue (except Production Premium), Adobe Device Central, Adobe Acrobat Connect and Adobe Stock Photos. Adobe Dynamic Link, Adobe OnLocation (Windows only) and Adobe Ultra (Windows only) were included in Production Premium and Master Collection editions.
CS3 included several programs, including Dreamweaver, Flash, and Fireworks that were developed by Macromedia, a former rival acquired by Adobe in 2005. It also included Adobe OnLocation and Adobe Ultra that were developed by Serious Magic, also a firm acquired by Adobe in 2006.
Adobe dropped the following programs (that were previously included in CS2) from the CS3 software bundles:[7]
Adobe had announced that it would continue to develop Audition as a standalone product, while GoLive had been discontinued. Adobe GoLive 9 was released as a standalone product on June 10, 2007. Adobe Audition 3 was announced as a standalone product on September 6, 2007. Adobe had discontinued ImageReady and had replaced it with Fireworks, with some of ImageReady's features integrated into Photoshop.
Creative Suite 4
Edit
Adobe Creative Suite 4 (CS4) was announced on September 23, 2008 and officially released on October 15, 2008.[8] All applications in CS4 featured the same user interface, with a new tabbed interface for working with concurrently running Adobe CS4 programs where multiple applications can be opened inside multiple tabs contained in a single window.[9]
Adobe CS4 was also developed to perform better under 64-bit and multi-core processors. On Windows, Adobe Photoshop CS4 ran natively as a 64-bit application. Although they were not natively 64-bit applications, Adobe After Effects CS4 and Adobe Premiere Pro CS4 have been optimized for 64-bit computers.[10] However, there were no 64-bit versions of CS4 available for Mac OS X.[11] In early testing of 64-bit support in Adobe Photoshop CS4, overall performance gains ranged from 8% to 12%, due to the fact that 64-bit applications could address larger amounts of memory and thus resulted in less file swapping — one of the biggest factors that can affect data processing speed.[12]
Two programs were dropped from the CS4 line-up: Adobe Ultra, a vector keying application which utilizes image analysis technology to produce high quality chroma key effects in less than ideal lighting environments and provides keying of a subject into a virtual 3D environment through virtual set technology, and Adobe Stock Photos. Below is a matrix of the applications that were bundled in each of the software suites for CS4:
Creative Suite 5
Edit
Creative Suite 5.5
Edit
Following the release of CS5 in April 2010, Adobe changed its release strategy to an every other year release of major number installments. CS 5.5 was presented on April 12th, 2011, as an in-between program. The update helps developers optimize websites for a variety of tablets, smart phones, and other devices. At the same time, Adobe announced a subscription based pay service as an alternative to full purchase.[13]
On July 1, 2011, Adobe Systems announced its Switcher Program, which will allow people who have purchased any version of Apple's Final Cut Pro (or Avid Media Composer) to receive a 50 percent discount on Creative Suite CS 5.5 Production Premium or Premiere Pro CS 5.5.[14]
Creative Suite 6
Edit
During an Adobe conference call on June 21, 2011, CEO Shantanu Narayen said that the April 2011 launch of CS5.5 was "the first release in our transition to an annual release cycle", adding, "We intend to ship the next milestone release of Creative Suite in 2012."[15] On March 21, 2012, Adobe released a freely available beta version of Adobe Photoshop CS6.[16] The final version of Adobe CS6 was launched on a release event April 23, 2012,[17] and first shipped May 7.[1] Adobe also launched a subscription-based offering named Adobe Creative Cloud where users are able to gain access to individual applications or the full Adobe Creative Suite 6 suite on a per-month basis, plus additional cloud storage spaces and services.[18]
References
Edit
↑ 1.0 1.1 Crosby, Connor (2012-04-23). Adobe Announces CS6, Ships May 7th?. EditingWhiz. Retrieved on 2013-02-03.
↑ Adobe Creative Suite Press Release. Adobe.com. Retrieved on 2010-04-04.
↑ Creative Suite 2 Press Release. Adobe.com. Retrieved on 2010-04-04.
↑ Adobe Systems. "Support for Intel-based Mac computers" (PDF), Adobe Systems, 2006-01-31. Retrieved on 2006-09-29.

 

↑ Borg, Johan (2007-03-28). 9.2 Beta – By Opera Desktop Team. Opera Software ASA. Archived from the original on 2008-02-01. Retrieved on 2009-02-08.
↑ Press Room: For immediate release. Adobe (2009-07-14). Retrieved on 2010-04-04.
↑ Adobe Systems. "New Adobe Acrobat 8 Professional Enhances Adobe Creative Suite 2.3", Adobe Systems, 2006-09-18. Retrieved on 2007-03-24.

 

↑ Adobe Creative Suite 4 Now Shipping (PDF). Adobe Press room. Retrieved on 2008-10-16.
↑ Adobe Creative Suite 4 Software Brings Unprecedented Efficiency via a Unified Application Interface. Atelier-us.com (2008-10-07). Retrieved on 2010-04-04.
↑ Adobe CS4 will be 64-bit, but only on Windows. Betanews.com. Retrieved on 2010-04-04.
↑ Adobe Photoshop CS4: FAQ. Adobe.com (2009-07-14). Retrieved on 2010-04-04.
↑ Introducing Adobe Creative Suite 5.5 Product Family. 2011, April 10. http://blogs.adobe.com/conversations/2011/04/introducing-adobe-creative-suite-5-5-product-family.html
↑ Don Reisinger, CNET. "Adobe tries discounts to woo Final Cut Pro ranters." Jul 1, 2011. Retrieved Jul 1, 2011.
↑ Q2 Fiscal Year 2011 Earnings Call Script (PDF). Investor relations. Adobe. Retrieved on 2011-10-02.
↑ Audition Photoshop CS6 Beta. Labs. Adobe. Retrieved on 2012-03-23.
↑ Adobe CS 6 Release (2012-04-23).
↑ Creative Cloud. Products. Adobe. Retrieved on 2013-02-03.
External links
Edit
Community content is available under
CC-BY-SA
unless otherwise noted.