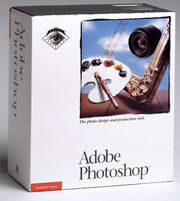 Adobe Photoshop 1.0 is the first version of Photoshop, released on February 19, 1990 by Adobe Systems, solely for Macintosh systems. It required System 6.0.2 or later.
In 1987, Thomas Knoll started work on a simple program to display grayscale graphics. The result, in January 1988, was Display 0.07. His brother John Knoll convinced him to to turn Display into a full image editing application which was initally named "ImagePro" and then evolved into the prototype Photoshop 0.63. An alpha version 0.87 was licensed to Barneyscan in a short-term deal and shipped with about 200 of their slide scanners as "BarneyScan XP".[1]
The Knoll brothers demonstrated the software to Apple Computer and then Adobe Systems in September 1988. Fred Mitchell, Adobe's head of acquisitions, had been evaluating ColorStudio from LetraSet at the time, but felt that the Knoll Software product was better. Mitchell immediately committed to a distribution license for Photoshop with a handshake and the final agreement was signed in April 1989. Adobe explored different names for the product, but decided to stick with "Photoshop" for version 1.0.[1]
In February 2013 the source code of version 1.0.1 was donated to the Computer History Museum.[2][3] The last stable release is version 1.0.7.
Video gallery
Edit
References
Edit
↑ 1.0 1.1 Thomas and John Knoll by Jeff Schewe, Photoshop News, originally published in PEI Magazine. 2000-09.
↑ Adobe Photoshop Source Code by Len Shustek, The Computer History Museum. Archived 2013-02-19.
↑ Adobe releases original Photoshop source code for nostalgic developers by Bryan Bishop, The Verge. 2013-02-14. Accessed 2017-05-03.
External Links
Edit
Community content is available under
CC-BY-SA
unless otherwise noted.