Jurassic World: Dominion Dominates Fandom Wikis - The Loop
Play Sound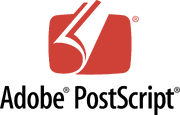 Adobe PostScript is a page description language developed and marketed by Adobe Systems.
History
[
]
The architecture of PostScript was designed by Adobe co-founders Charles Geschke and John Warnock, along with Doug Brotz, Bill Paxton, and Ed Taft from 1982 to 1984. Apple Computer was an early customer that introduced PostScript to the computing market through their LaserWriter printers. However it was expensive, causing friction with Apple due to the high royalty fees that Adobe charged for PostScript to be included in the controller boards for the printers.[1][2]
After Adobe resisted pleas from Apple to reduce licensing costs and began selling PostScript to other printer manufacturers that undercut the LaserWriter line, Apple dumped their 15% stake in Adobe.[1][3] On September 20, 1989, Apple and Microsoft announced a joint effort to develop alternatives to PostScript, such as TrueImage and TrueType font technology.[1] John Warnock, who was CEO of Adobe at the time, distraughtly called it "the biggest bunch of garbage mumbo jumbo I've ever heard in my life".[4] Adobe developed Adobe Type Manager to maintain the presence of its Type 1 fonts in the desktop computer market.[1]
When Apple was financially struggling in 1996, Adobe teamed up with Microsoft to develop OpenType as a successor to both TrueType and Type 1.[5][6] PostScript Level 3 was introduced on September 11, 1996.[7]
Adobe released PDF as an open royalty-free standard to gain wide adoption and it has largely supplanted the need for PostScript in the consumer market, though it is still widely used in the professional print industry.[2][8] The ongoing development of PostScript has since been handled by Adobe India.[9]
References
[
]
See also
[
]
External links
[
]