Adobe RoboHelp is a series of help authoring tools, developed and published by Adobe for Windows-based computers.
Adobe RoboHelp can generate help files in the following file formats:

RoboHelp was originally created by Gen Kiyooka at San Diego-based Blue Sky Software, which released version 1.0 in January 1992.[1] As RoboHELP became the flagship product of Blue Sky Software, the company changed its name to eHelp Corporation on April 4, 2000.[2]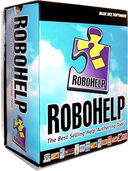 eHelp used dates instead of version numbers to market RoboHELP 2000 and 2002 and somewhat continued this in a way with RoboHelp X3 and X4. On October 24, 2003, eHelp was acquired by Macromedia,[3] which carried on the naming convention with Macromedia RoboHelp X5.[4]


Adobe Systems acquired Macromedia on December 3, 2005.[5] However, Adobe renamed the next version to Adobe RoboHelp 6 in 2007, causing confusion for buyers looking for training materials that may use similar titles as older versions, such as RoboHELP 6 from 1998 (also referred to as "RoboHELP Classic 6").[4] Adobe returned to using dates to market its more recent versions, starting with Adobe RoboHelp 2015.
Community content is available under
CC-BY-SA
unless otherwise noted.