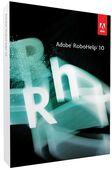 Adobe RoboHelp 10 is the 18th major version of the RoboHelp authoring tool, released by Adobe Systems on July 26, 2012.[confused?] It was also included as part of Adobe Technical Communication Suite 4 and featured integration with Adobe Captivate 6.
RoboHelp 10 embraced HTML5 and CSS3 to support more open standards. Topics are authored in XHTML as before. Screen Profiles allows previewing of projects for defined browser types and screen resolutions. Multiscreen HTML5 output can be created to allow CSS3 to adapt to muliple screen configurations.[1]
Community content is available under
CC-BY-SA
unless otherwise noted.