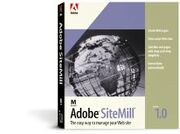 Adobe SiteMill 1.0 is the first version of SiteMill from Adobe Systems, which was released for Macintosh in January 1996.[1]
Product history
[
]
SiteMill was originally announced by developer Ceneca Communications in August 1995 at Macworld Expo in Boston with a projected list price of US$795.[2][3] Adobe announced their acquisition of Ceneca the following month.[4][5]
Adobe began shipping SiteMill at a suggested retail price of $595, with upgrades for PageMill users available from US$299.[1] However, the price was dropped to $279 in June 1996 and users who purchased at the original price were offered complimentary upgrades to SiteMill 2.0.[6]
SiteMill was localized into several languages. The last known update was version 1.0.2.[7]
References
[
]
External links
[
]