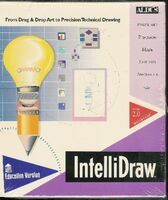 Aldus IntelliDraw was a vector-based graphics application program that was published by Aldus Corporation.
Product history
[
]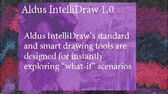 The development of IntelliDraw was led by Jonathan Gay of Silicon Beach Software, a subsidiary of Aldus.[1][2] Version 1.0 for Macintosh and Windows was released in 1992.[3][4] Gay also created a similar program for PenPoint OS called SmartSketch, which would eventually evolve into Flash.[1]
Though version 2.0 was announced at Macworld Expo in 1993,[5] it did not ship until early 1994.[6][7] On August 31, 1994, Aldus was merged into Adobe Systems.[8][9] The sole version of IntelliDraw released by Adobe was a 1996 update to version 2.0 for compliance with Windows 95.[10] IntelliDraw was later discontinued and its drawing engine was incorporated into Adobe PageMaker 6.[11]
References
[
]
↑ 1.0 1.1 Executive Bios, Macromedia. Archived 2004-06-04.
↑ IntelliDraw 1.0 by William Harrel, COMPUTE! #149 p.78. 1993-02.
↑ IntelliDraw Review by Richard Lim, TidBITS. 1992-12-07.
↑ IntelliDraw: An Intriguing Collection of Drawing Tools by Luisa Simone, PC Magazine p.37-40. 1992-09-29.
↑ Aldus gives IntelliDraw a more accessible price by Jeanette Borzo, InfoWorld p.8. 1993-08-02.
↑ IntelliDraw 2.0 brings real smarts to business drawing packages by Mike Heck and Jeff Angus, InfoWorld p.62-66. 1993-12-13.
↑ IntelliDraw fit for graphics professionals, casual users by Mike Heck, InfoWorld p.100-104. 1994-04-25.
↑ Aldus and Adobe Lay Claim to Digital Publishing by Laurie Flynn, The New York Times. 1994-08-24.
↑ Aldus and Adobe Systems Finalize Merger, Computer History Museum. 1994-08-31.
↑ Adobe IntelliDraw by Kathleen Caster, PC Magazine p.227. 1995-09-12.
↑ PageMaker 6 Emphasizes High-End Publishing by Cathy Abes, Macworld p.140. 1995-09.
External links
[
]