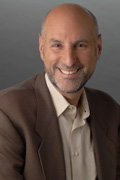 Bruce R. Chizen (born 1956) is an American business executive, and the former president and CEO of Adobe Systems.
Education
Edit
Chizen grew up in the Brooklyn neighborhood of Canarsie and received his undergraduate degree at Brooklyn College.[1][2]
Prior to working at Adobe, Chizen was a regional sales manager at Microsoft and vice president at Claris, a subsidiary of Apple Computer. After Aldus Corporation acquired Silicon Beach Software, he was appointed the VP and general manager of the studio in San Diego.[2]
In August 1994, Aldus was merged into Adobe Systems.[3][4] In April 2000, Chizen succeeded Charles Geschke as the president of Adobe. By December of that year, he succeeded John Warnock as CEO.[1]
Chizen presided over the acquisition of Macromedia by Adobe in December 2005.[5] He stated that it was "all about growth." However, the deal was also a defensive maneuver against the influence of Microsoft, with Chizen saying, "They have a $40 billion monopoly with unlimited resources, I'll never not worry about them."[6]
Chizen stepped down from his position at Adobe and was succeeded by Shantanu Narayen on December 1, 2007. About his departure, Chizen said: "I'm not leaving under any cloud. There's no severance agreement. I'm taking a break, and the reason I feel comfortable taking a break is because the company is in such good shape."[7]
References
Edit
External links
Edit
Community content is available under
CC-BY-SA
unless otherwise noted.