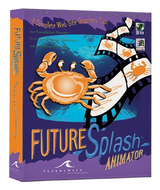 FutureSplash Animator is a vector-based animation system from FutureWave Software for Macintosh and Windows. The animation files could be distributed with the FutureSplash Player plugin for runtime playback within a web browser.[1]
History
[
]

FutureSplash evolved from another project at FutureWave called SmartSketch. FutureWave co-founder Jonathan Gay developed SmartSketch as a graphics application for PenPoint OS, running on graphics tablets designed by GO Corporation. After AT&T Corporation acquired the rights to the EO Personal Communicator tablets only to discontinue it, FutureWave no longer had a viable market for SmartSketch. Gay retooled the application to be able to output animated content that could be played back from any web browser. This product became FutureSplash Animator, which shipped on August 19, 1996. Early adopters included MSN and Disney Online.[1][2][3]
FutureWave pitched the product to Adobe Systems, but an agreement was not reached and Adobe promoted rival specifications to Flash.[4] In January 1997, FutureWave was acquired by Macromedia for an undisclosed sum.[5][6] FutureSplash Animator became Macromedia Flash. Gay would go on to become the Chief Technology Officer of Macromedia in 2004.[7] Adobe would end up acquiring Macromedia in December 2005 for $3.4 billion, mainly for Flash.[4][8]
Video
[
]
References
[
]
External links
[
]
Articles
[
]