FutureWave Software was the original developer of FutureSplash Animator.
The company was founded in March 1993 in San Diego by Charlie Jackson and Jonathan Gay,[1] Both had previously left Silicon Beach Software after it had been acquired by Aldus Corporation in 1990.[2][3][4]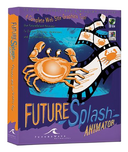 Gay convinced Jackson to invest in a graphics application that would become SmartSketch for PenPoint OS to run on graphics tablets designed by GO Corporation. After AT&T Corporation acquired the rights to the EO Personal Communicator tablets only to discontinue it, Gay and Jackson discovered that they no longer had a viable market for SmartSketch and retooled it to be able to output animated content that could be played back from any web browser. This product became FutureSplash Animator. Early adopters included MSN and Disney Online.[4][5]
FutureWave pitched the product to Adobe Systems, but an agreement was not reached and Adobe promoted rival specifications to Flash.[6] In January 1997, FutureWave was acquired by Macromedia for an undisclosed sum.[7][8] FutureSplash Animator became Macromedia Flash. Gay would go on to become the Chief Technology Officer of Macromedia in 2004.[9] Adobe would end up acquiring Macromedia in December 2005 for $3.4 billion, mainly for Flash.[6][10]

Jackson re-acquired the Silicon Beach trademark and re-opened the company in San Diego in 2010 as a publisher of children's interactive storybooks for mobile devices, with a similar logo as the former FutureWave.[11]
↑ FutureWave Software, Crunchbase. Accessed 2019-11-14.
↑ How A Goal-Oriented Bootstrapper Who Mortgaged His House Ended Up Fathering Flash by Andrew Warner, Mixergy. 2012-08-31.
↑ Showcase: The History of Flash, p.2 by Jonathan Gay, Macromedia. Archived 2006-01-14.
↑ 4.0 4.1 Showcase: The History of Flash, p.3 by Jonathan Gay, Macromedia. Archived 2006-01-14.
↑ Showcase: The History of Flash, p.4 by Jonathan Gay, Macromedia. Archived 2006-01-14.
↑ 6.0 6.1 Flash Wars: Adobe in the History and Future of Flash by Prince McLean, AppleInsider. 2008-05-05.
↑ Macromedia Rides the FutureWave by Kristi Coale, Wired. 1997-01-06.
↑ Macromedia buys Futurewave to add Flash to Shockwave, Computer Business Review. 1997-01-08.
↑ Executive Bios, Macromedia. Archived 2004-06-04.
↑ Adobe Completes Acquisition of Macromedia, Adobe Systems. 2005-12-05. Archived 2005-12-07.
↑ About Silicon Beach Software, Silicon Beach Software. Archived 2012-03-17.
Community content is available under
CC-BY-SA
unless otherwise noted.