Jamie Faye Fenton (born Jay Fenton) is one of the co-founders of MacroMind,[1] the predecessor of Macromedia, which was acquired by Adobe Systems in December 2005.[2] Fenton was part of the original team behind MacroMind VideoWorks, which evolved into Macromedia Director.[3]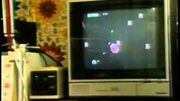 Fenton gained early acclaim in 1981 as the creator of Gorf.[4][5] The MacroMind company was named after one of the characters in Gorf.[6] She was drawn to computer technology while in school because its highly predictable nature appealed to her and provided a haven from being bullied by other students. Jamie transitioned from male to female around 1998 and has been active in the transgender community.[4]
Community content is available under
CC-BY-SA
unless otherwise noted.