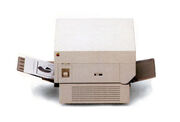 The LaserWriter from Apple Computer was the first printer to use PostScript technology from Adobe Systems.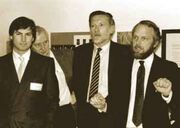 Steve Jobs visited Adobe during its early days and convinced them to adapt their first project, PostScript, to run on a laser printer. This was launched in the Apple LaserWriter at a list price of US$6,995, which featured a 12MHz Motorola 68000 processor that was faster than any Macintosh computer at the time in March 1985.[1][2] Jobs had Apple invest $2.5 million in Adobe for a 19% stake. This investment helped Adobe to become profitable quickly.[1][3]
After Steve Jobs left Apple, Adobe resisted pleas from his successor, Jean-Louis Gassée, to reduce licensing costs and began selling PostScript to other printer manufacturers that undercut the LaserWriter line. Apple dumped their stake in Adobe and eventually abandoned the printer market.[1][4]
LaserWriter (March 1985), included 13 fonts in ROM and 300-dpi resolution.
LaserWriter Plus (January 16, 1986), included 35 fonts in ROM, which became standard.
LaserWriter IINT (1988), reduced weight and cost.
LaserWriter IINTX (1988), the first model to support external SCSI drives to install more fonts.
LaserWriter IISC (1988), the first model to use QuickDraw instead of PostScript.
LaserWriter IIf (October 1991), introduced PostScript Level 2, Fineprint edge smoothing, and a PhotoGrade option.
LaserWriter IIg (October 1991), the first model with ethernet.
LaserWriter Pro 600 (1993), the first model to support 600-dpi resolution.
LaserWriter Pro 630 (1993), also included SCSI and ethernet ports, the first to support printing over TCP/IP.
LaserWriter Pro 810 (1993), first to support 800-dpi on large format paper up to 11" x 17".
Color LaserWriter 12/600 PS (June 1995), the first color model and the most expensive LaserWriter ever sold.
LaserWriter 12/640 PS (June 1996), the first model to support double-sided printing (RAM upgrade required).
Color LaserWriter 12/660 PS (October 1996), a lower-cost color model that was widely adopted by Kinko's.
LaserWriter 8500 (August 1997), the first model with PostScript Level 3, and the last laser printer from Apple. Supported 600-dpi on large format paper up to 13" x 20".
Community content is available under
CC-BY-SA
unless otherwise noted.