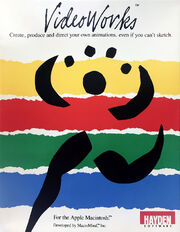 MacroMind VideoWorks was an early animation program that was developed by MacroMind (predecessor of Macromedia).[1]
Product history
[
]
Marc Canter, Jay Fenton and Mark Stephen Pierce of MacroMind had originally designed a multimedia application called SoundVision with graphics, text, and sound capabilities for Apple Computer's Macintosh 128K. The media elements were timed by a "score" based on an early implementation of MIDI.[2][3] At the insistence of Hayden Software, the publisher, the sound and graphics features were split into two products that became MacroMind MusicWorks and VideoWorks, which were released in October 1984 and June 1985, respectively.[2][4] The programming was done by Fenton and Dan Sadowski.[5] VideoWorks contained a rudimentary built-in paint feature that was later spun off as a separate desk accessory utility called CheapPaint.[6]
In December 1985, Fenton implemented a customized version of VideoWorks with Tiny BASIC that was licensed to Apple to build interactive training demos.[2][5] Apple had previously been using audio cassettes for guided tours of their new Macintosh line.[7] The first such animated tour to be built with VideoWorks was for the Macintosh Plus.[8] Apple was unable to build interactive tutorials with their own technology until Bill Atkinson created HyperCard in 1987.[9]
VideoWorks II added color capabilities and was self-published by MacroMind in 1987.[5][10] In 1988, Canter announced that that the next version, VideoWorks Professional, would feature additional paint capabilities.[11] It was released in 1989 as MacroMind Director 1.0.[12]
John Henry Thompson and Erik Neumann developed a new scripting language called Lingo to replace Tiny BASIC in VideoWorks Interactive Pro. It was released in April 1990 as MacroMind Director 2.0.[5][13]
References
[
]
↑ Multimedia producer: Director by Everardo Reyes-Garcia, Nasreddine Bouhaï, Designing Interactive Hypermedia Systems, p.137. 2017.
↑ 2.0 2.1 2.2 The Birth of MacroMind by Marc Canter, p.63. Festival Ars Electronica. 2003-08.
↑ What Is an Authoring System? by Randall Packer, Ken Jordan, Multimedia: From Wagner to Virtual Reality, p.201. 2002.
↑ Peripherals; Portable screen for Apple by Peter H. Lewis, The New York Times. 1985-02-19.
↑ 5.0 5.1 5.2 5.3 An Unofficial Brief History of Director by Luke Wigley, Lingo Workshop. 2017-01-27.
↑ MacroMind Utility Disk by Howard Bornstein, Under the Apple, p.30. 1987.
↑ Apple's cassette from 1984: A Guided Tour of Macintosh and A Guided Tour of MacWrite & MacPaint by Dave Mark, The Loop. 2019-05-09.
↑ Guided Tour of Macintosh by BasalGangster, The Long View. 2011-08-31.
↑ HyperCard On The Archive (Celebrating 30 Years of HyperCard) by Jason Scott, The Internet Archive. 2017-08-11.
↑ VideoWorks II ad, The Dot Eaters Video Game History 101. 2019-07-13.
↑ VideoWorks to Get 3-D, Professional Versions by Nick Arnett, InfoWorld, p.27. 1988-08-01.
↑ Director Makes It Easy to Create Multimedia Presentations by Michael J. Miller, InfoWorld, p.S11. 1989-05-11.
↑ Director's Increased Interactivity Lauded by Paul Worthington, InfoWorld, p.27. 1990-04-30.
External links
[
]