Macromedia Backstage Desktop Studio is an early "Studio" suite of the Backstage website development tools developed by iBand and released by Macromedia after it had acquired iBand in March 1996.[1]
Macromedia Backstage Object Server

Backstage Library of Objects
In December 1995, iBand first announced Backstage for Windows 3.1, 95 and NT.[2] Beta testing for Windows 95 and NT began in March 1996.[3]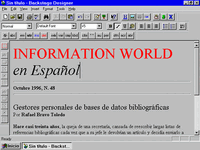 Version 1.0 of Macromedia Backstage Desktop Studio and Enterprise Studio were released as part of a trial beta program in April 1996 and shipped on April 29 and July 1, respectively. The Enterprise version's primary difference is that it includes additional Backstage Objects that support client-server databases while the Desktop version is limited to local desktop databases, such as Borland Paradox, Microsoft Access, and FoxPro. Macromedia released Backstage Xtras Developers Kit later in the year to allow developers to build their own objects.[4][5][6][7]
Backstage Desktop Studio was superseded by Macromedia Backstage Internet Studio 2: Desktop Edition in the first quarter of 1997.[8]
Backstage version 1.0 was selected as a Pick Hit at the NAB Show in April 1996 and received a World Class Award from Java Developers Journal in December 1996. It was NetGuide's Editor's Choice in January 1997.[9]
Community content is available under
CC-BY-SA
unless otherwise noted.