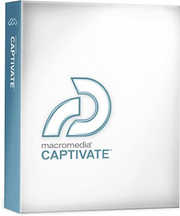 Macromedia Captivate 1.0, formerly RoboDemo, is the first and only major version of the Captivate screen capture and training application released by Macromedia on November 9, 2004,[1] prior to its acquisition by Adobe Systems in December 2005.[2]
The logo on the box is a symbol of the software's roots as RoboDemo.[3] As with previous versions of RoboDemo, it only supports Windows-based computers.[4] It was succeeded by Adobe Captivate 2, which was announced on September 5, 2006.[5]
Adobe Systems, which had acquired Macromedia in December 2005,[2] disabled the activation server for legacy Macromedia products on December 15, 2012.[6] Users who wish to activate Macromedia Captivate after this date will need to follow this procedure.
Community content is available under
CC-BY-SA
unless otherwise noted.