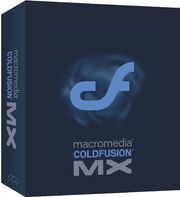 Macromedia ColdFusion MX (release 6) is a version of ColdFusion that was released by Macromedia on May 29, 2002,[1] superseding Macromedia ColdFusion 5. It was later updated to Macromedia ColdFusion MX 6.1
Macromedia ColdFusion MX Developer Edition was packaged with Macromedia Studio MX, but only the Windows version was included.[2] The Enterprise Edition was included as part of a subscription to Macromedia DevNet.
ColdFusion 6 (MX) was first presented by Allaire Corporation as part of their product roadmap under the codename "Neo" at the 2000 Allaire Developer Conference.[3] Allaire was merged into Macromedia in March 2001.[4]
Community content is available under
CC-BY-SA
unless otherwise noted.