Macromedia DevNet Resource Kits were a series of CD-ROMs that were issued quarterly by Macromedia as part of its DevNet subscription and support program. Each disc included components and extensions for Macromedia development tools. These succeeded Macromedia MX Developer Resource Kits in 2003.
Product history
[
]
Originally known as the Macromedia MX Developer Resource Kit,[1] the first volume was released on September 6, 2002 and was priced at $99.[2] Starting with the third volume in 2003, the MX Developer Resource Kits were retitled and released as Macromedia DevNet Resource Kits.[3]
The first two volumes were later combined into a Macromedia DevNet Resource Kit Special Edition, which was included with Macromedia Studio MX Plus. DevNet subscribers could receive 4 additional volumes for $299 per year.[4][5]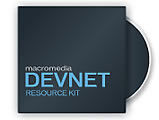 Discontinuation
[
]
On January 3, 2005, Macromedia stopped accepting new subscribers. The final disc was volume 13, which was released in October 2005.[6]
References
[
]
External links
[
]