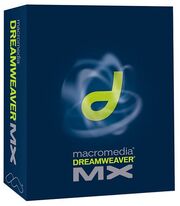 Macromedia Dreamweaver MX (release 6) is a version of Dreamweaver that was released by Macromedia on May 29, 2002.[1] It was also available as part of Macromedia Studio MX.[2]
Dreamweaver MX included a version of Macromedia HomeSite+ to support application development with Macromedia ColdFusion MX.[3][4]
The preview version of Dreamweaver MX was downloaded over 530,000 times before its public release in May 2002.[1]
Though Dreamweaver MX is the fifth major release, its version was renumbered to 6 to match the underlying release number of Flash MX in the Studio MX suite.[5][confused?]
Community content is available under
CC-BY-SA
unless otherwise noted.