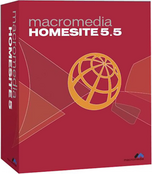 HomeSite was a series of HTML editing tools developed and released by Allaire and then Macromedia. Allaire included a modified version with ColdFusion as ColdFusion Studio. It was also bundled with Macromedia Dreamweaver.
Product history
[
]

Independent programmer Nick Bradbury originally wrote HomeSite 1.0 in Delphi for speed and compactness to maintain his online comic website, Dexter. He notified some shareware sites after releasing HomeSite in July 1996, only to discover that it had been downloaded over a thousand times during the first night.[1] It was also positively received by trade magazines.[2] Microsoft made the first offer to acquire HomeSite, but Bradbury ended up taking a counter-offer from Allaire in March 1997 and continued working on HomeSite as a commercial product for 18 months.[1]
Allaire was absorbed by Macromedia in a merger that was completed on March 20, 2001.[3] Macromedia released Macromedia HomeSite 5 later that year and continued development through version 5.5.[4][5] Variants of HomeSite 5 were included with Macromedia Dreamweaver MX and MX 2004 as "HomeSite+", which added functionality for application development with Macromedia ColdFusion MX and MX 6.1.[4][5][6]
Discontinuation
[
]
Macromedia itself was acquired by Adobe Systems on December 5, 2005.[7] Adobe announced that development on HomeSite was being discontinued on May 26, 2009 and offered Adobe Dreamweaver CS4 as a substitute.[8] On March 22, 2010, Adobe introduced Adobe ColdFusion Builder as their new integrated development environment (IDE) for dedicated ColdFusion development.[9]
References
[
]
↑ 1.0 1.1 Born to Code, Part II by Nick Bradbury, TypePad. 2006-04-13.
↑ Web Publishing Teaches New Tricks by Nill Machrone, PC Magazine. 1997-02-18.
↑ Macromedia Completes Merger With Allaire, Macromedia. 2001-03-20. Archived 2001-03-30.
↑ 4.0 4.1 Macromedia HomeSite 5, Macromedia. Archived 2001-11-10.
↑ 5.0 5.1 Macromedia HomeSite 5.5, Macromedia. Archived 2003-10-01.
↑ Macromedia HomeSite Dreamweaver MX FAQ, Macromedia. Archived 2002-06-04
↑ Adobe Completes Acquisition of Macromedia, Adobe Systems. 2005-12-05. Archived 2005-12-07.
↑ HomeSite development ended, Adobe Systems. 2009-05-26.
↑ Introducing ColdFusion Builder by Ben Forta, Adobe Systems. 2010-03-22.
External link
[
]