We're Getting Mutants in the MCU - The Loop
Play Sound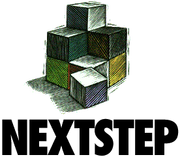 NeXTSTEP, also stylized as NEXTSTEP, is a Unix-based object-oriented operating system that was developed by NeXT and introduced with the first NeXT Computer in 1988.
History
[
]

NeXTSTEP adapted Display PostScript from Adobe Systems for use as its graphics engine.[1] The integration of PostScript into the operating system allowed the NeXT Laser Printer and Color Printer to be significantly simpler and cheaper, while still maintaining speed and WYSIWYG accuracy in their printed output.[2][3] It was also the platform on which Tim Berners-Lee designed the World Wide Web,[4] and on which id Software developed the video games Doom and Quake.[5][6]
On December 20, 1996, Apple Computer announced that it would acquire NeXT.[7] An open-source version of the NeXTSTEP API called OpenStep was used to develop Mac OS X as Apple's next operating system, but it replaced Display PostScript with a new PDF-based imaging model called Quartz to avoid paying licensing fees to Adobe.[8][9] iOS and macOS can trace their developmental roots to NeXTSTEP as their APIs are prefixed with NS (NSObject, NSString, etc.).[10]
Video gallery
[
]
References
[
]
↑ New from Adobe by Greg Scott, University of Michigan Computing News, vol.3, no.4, p.10-11. 1988-02-24.
↑ NeXT Laser Printer by Kevin Ford, The Best of NeXT Collection. Accessed 2020-01-31.
↑ NeXT Color Printer by Kevin Ford, The Best of NeXT Collection. Accessed 2020-01-31.
↑ NeXT cube computer, 1990 by NeXT, Science Museum Group. Accessed 2020-02-01.
↑ Apple-NeXT Merger Birthday! bu John Romero, Rome.ro. 2006-12-20.
↑ GameTales: Cray 6400 by John Romero, Rome.ro. 2010-01-31.
↑ Apple Computer, Inc. agrees to acquire NeXT Software Inc., Next Software. 1996-12-20. Archived 1997-04-12.
↑ NeXT: Apple's Right Choice by Jonathan Ploudre, Low End Mac. 2001-05-07.
↑ Mac OS X and PDF by Laurens Leurs, Prepressure. 2013-08-09.
↑ Apple and NeXT announce merger (1996) by mattl, Y Combinator Hacker News. 2017-12-20.
External links
[
]