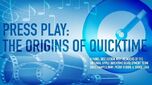 QuickTime is a multimedia framework originally developed by Apple Computer for its Macintosh line of computers.
Product history
Edit
QuickTime 1.0, codenamed "Warhol", was originally released for Macintosh System 6 in December 1991. Adobe Premiere 1.0 had also been in development by Randy Ubillos and was one of the first QuickTime-based video editors on the market.[1]
Apple released QuickTime 2.0 for System 7 in June 1994, the only commercial version that was not freely released. Version 2.5 was released on July 22nd of that year.[2]
Components
Edit
QuickTime MPEG Extension
Edit
On January 24, 1997, Apple released the QuickTime MPEG Extension, which allowed playback of MPEG-1 video on Power Macintosh computers without the need for additional dedicated hardware.[3][4]
QuickTime Musical Instruments
Edit
Adds MIDI support to QuickTime 2.0 and later. A companion QuickTime Music control panel and Macintosh MIDI Manager had also been in development for QuickTime 2.1, but were never released.[5]
QuickTime PowerPlug
Edit
The PowerPlug extension accelerates performance of QuickTime 2.5 and later on systems with a PowerPC processor.[5]
QuickTime VR
Edit
QuickTime VR allowed for 360-degree navigation in multimedia titles.
Deprecation
Edit
QuickTime 7 introduced QTKit in April 2005 as a new 64-bit framework in the transition leading up to QuickTime X.[6] Classic QuickTime (pre-X) and QTKit have since been deprecated in favor of AVFoundation and AVKit, which originated on Apple's iOS platform and have now become the default media framework for macOS.[7][8][9]
Apple discontinued QuickTime development for Windows since version 7.7.9,[10] leading the U.S. Computer Emergency Readiness Team to recommend the removal of obsolete versions of QuickTime from Windows computers due to the lack of future security updates.[11] Adobe discontinued support for the classic 32-bit versions of QuickTime and its legacy formats since April 2018 and ported the ProRes codecs of QuickTime X to support its Windows apps.[12][13]
References
Edit
↑ VideoSpigot Review by Jon Pugh, TidBITS. 1992-04-20.
↑ August and July 96 by Judith L. Stern and Robert Lettieri, Archive Little QuickTime Page. Accessed 2019-02-04.
↑ Press Release: Apple Introduces High-Quality MPEG Software for QuickTime by Jonathan Hirshon, Apple Computer. 1997-01-24. Archived 1998-12-02.
↑ QuickTime gets extension: MPEG-enhanced playback possible by Ed Scannell, InfoWorld. 1997-02-03.
↑ 5.0 5.1 Apple Easter Eggs: QuickTime by David K. Every & Daniel Fanton, MacKido. 2002-11-09.
↑ Mac OS X 10.6 Snow Leopard: the Ars Technica review - QuickTime X by John Siracusa, Ars Technica. 2009-08-31.
↑ Exploring AV Foundation, Apple Worldwide Developers Conference, 2011. Accessed 2019-02-05.
↑ Transitioning QTKit Code to AV Foundation, Apple Developer Documentation Archive. 2013-05-28. Accessed 2019-02-05.
↑ Moving to AV Kit and AV Foundation by Sam Bushell, Apple Worldwide Developers Conference, 2013. Accessed 2019-02-05.
↑ Download QuickTime 7.7.9 for Windows, Apple. 2016-01-07.
↑ QuickTime on Windows by the Creative Cloud Team, Adobe Blog. 2016-04-16.
↑ Dropped support for QuickTime 7 era formats and codecs, Adobe. 2019-10-14.
↑ This Is Huge: Adobe Now Supports ProRes Export on Windows by Oliver Kmia, Fstoppers (2018-12-14)
External links
Edit
Community content is available under
CC-BY-SA
unless otherwise noted.