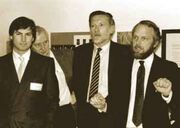 Steven Paul Jobs (February 24, 1955 – October 5, 2011) was a co-founder and former CEO of Apple Computer and an early backer of Adobe Systems.
History
[
]
Jobs visited Adobe during its early days and convinced them to adapt their first project, PostScript, to run on a laser printer. He had Apple invest US$2.5 million in Adobe for a 15% stake in the company. PostScript was launched in the Apple LaserWriter in March 1985.[1][2]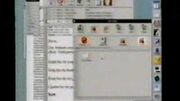 After Jobs left Apple, he founded NeXT, which adopted Display PostScript as its on-screen graphics engine. In 1996, Apple acquired NeXT and Jobs was back at Apple. The NeXTSTEP operating system was adapted into Mac OS X, but it replaced Display PostScript with a new PDF-based imaging model called Quartz to avoid paying licensing fees to Adobe.[2]
Jobs then asked Adobe to provide a consumer version of Adobe Premiere that could be bundled with the upcoming iMac DV, code named Kihei. However, as Apple had been financially struggling at the time, Adobe declined and focused Premiere on the Windows platform. In response, Apple approached Macromedia and acquired the source code and development team of its unfinished Final Cut video editing software on May 4, 1998.[3][4] Adobe then met with Apple's management seeking to shut down the project. However, Jobs made a case that Final Cut was different than Premiere and would be beneficial to the overall desktop computer market.[5] It was released as Final Cut Pro in April 1999.[3]

In April 2010, Jobs wrote an open critique of Adobe Flash to justify his refusal to support the technology on Apple's successful iOS line, which included the iPhone, iPod Touch, and iPad.[6] An Apple engineer later stated that Jobs was offended that Adobe CEO Shantanu Narayen would not take his phone calls for what he perceived to be "mere engineering problems".[7]
Kevin Lynch, the chief technology officer of Adobe at the time, responded with a rebuttal to Jobs and even co-starred in a parody video in which he participated in the destruction of an Apple iPhone. Jobs then attempted to secretly recruit Lynch, who later did join Apple in 2013 to lead development of the Apple Watch.[8]
References
[
]
External links
[
]
Articles
[
]