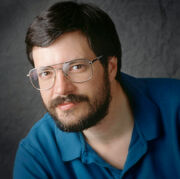 Thomas Knoll is an Adobe Fellow and the software engineer who created Adobe Photoshop.
Thomas originally created Display 0.07 in January 1988 to display grayscale graphics while he was a doctoral candidate at the University of Michigan. He wrote this early build on a Macintosh Plus computer.[1] His brother John Knoll convinced him to to turn Display into a full image editing application that eventually became Adobe Photoshop 1.0.[2] Knoll's source code of version 1.0.1 was released to the Computer History Museum in February 2013.[3][4] Thomas continues to work on Photoshop on a contract basis, mainly on features related to Adobe Camera Raw.[1]
Community content is available under
CC-BY-SA
unless otherwise noted.